PoolCoating System 10 comes in packs of 3 cans (2x 5 litre cans of colour and 1x 3 kg can of clear).
The price is £229.95 per pack (excluding value added tax).  Scroll down to add to basket.
To find out the price in Euros please click here to check the current exchange rate.
The minimum order quantity is 1 pack (see below for details of calculating the number of packs you will need).
Before placing your order for PoolCoating
System 10 you will need the following information:
The colour you would like to coat your pool

The area of the pool in square metres or square yards

The destination for shipment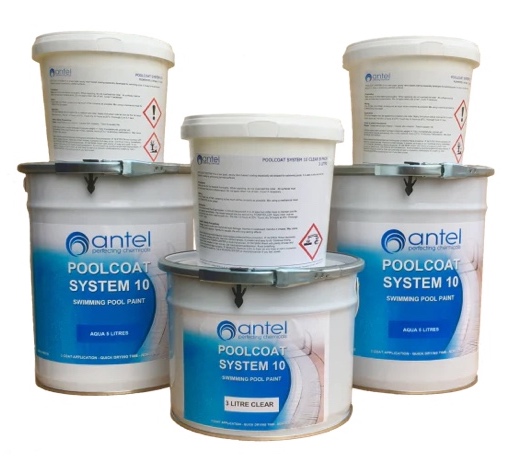 Colours
PoolCoating System 10 is available in the following colours: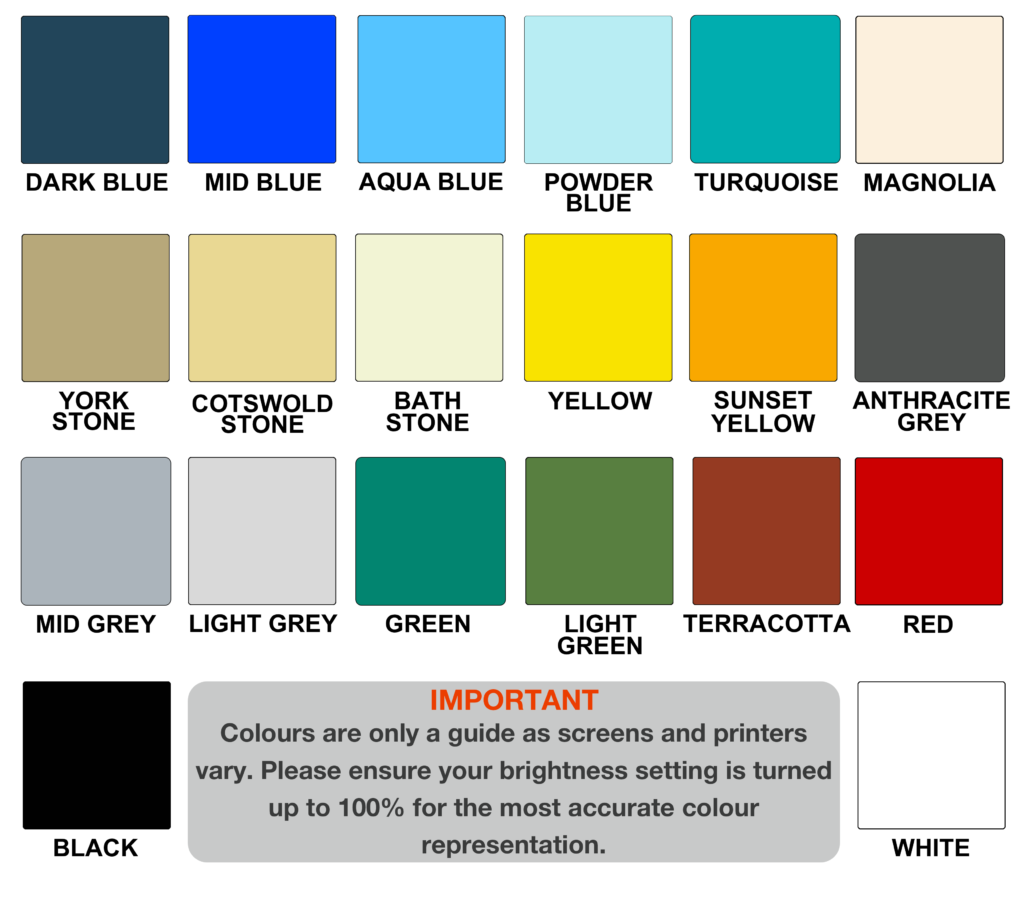 Coverage
To calculate how many packs of PoolCoating System 10 you require please click here to open our calculator.
If you'd prefer to work it out manually please read below:
Calculate the area to be coated. For example add up the area of the bottom of the pool and each of the sides. If you have surfaces such as steps, don't forget to include their area as well. If you have an irregular shaped pool, you will need to estimate the surface area to be covered.
One pack of PoolCoating System 10 will cover 30 – 40 square metres (approximately 36 – 48 square yards) with two coats of colour and one coat of clear, depending on the porosity of the surface. A newly prepared surface will take more whereas a previously coated surface will take less.
To calculate the number of packs you will require, take the total area in either square metres or square yards and divide by the appropriate amount to get the number of packs. We always recommend that the requirements are rounded up to ensure that you can finish the job successfully
For example, you have a pool that is 11m x 6m x 1.5m (length x width x depth). The area for coating is therefore 117 square metres. Divide this by 30 (using coverage of 30 square metres per pack) which comes to 3.9 packs. Round this up and place your order for 4 packs.
Delivery Charges
The following delivery charges will be applied for each shipping destination zone:
United Kingdom (UK) – £8.95 plus VAT per pack (allow 1 – 2 working days for delivery)
France – £20.00 plus VAT per pack (allow 3 – 5 working days for delivery)
Spain – £35.00 plus VAT per pack (allow 5 – 7 working days for delivery)
Delivery charges are calculated and clearly shown before you confirm your order. If you are not sure of the cost from the above, simply put in your order details to see the delivery charge at which time you can either confirm or cancel.
For quantities greater than 10 packs or other countries outside of the UK and EU please contact us to discuss your order.
All costs are in pounds sterling and exchange rates will be applied by the credit card companies at their prevailing rates into your local currency.
Order PoolCoating System 10 – £229.95 plus VAT
---
Order Maintenance Pack – £91.25 plus VAT
A small amount of Pool Coating System 10 to patch up any imperfections on a previously painted pool. Consisting of 2 x 1 litres of colour and 1 x 1 kg of clear, this product will cover 6 metres squared.